30/04/15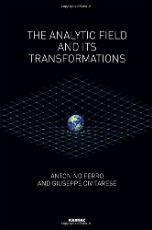 Antonino Ferro and Giuseppe Civitarese
The Analytic Field and its Transformations
Karnac Books
The Analytic Field and its Transformations presents a collection of articles, written jointly by Antonino Ferro and Giuseppe Civitarese in recent years, all revolving around the post-Bionian model of the analytic field – Bionian Field Theory (BFT). Going hand-in-hand with the ever-growing interest in Bion in general, analytic field theory is emerging as a new paradigm in psychoanalysis. Bion mounted a systematic deconstruction of the principles of classical psychoanalysis. His aim, however, was not to destroy it, but rather to bring out its untapped potential and to develop ideas that have remained on its margins.
BFT is a field of inquiry that refuses a priori, at least from its own specific perspective, to immobilize the facts of the analysis within a rigid historical or intrapsychic framework. Its intention is rather to bring out the historicity of the present, the way in which the relationship is formed instant-by-instant from a subtle interplay of identity and differentiation, proximity and distance, embracing both Bion's rigorous, and his radical, spirit.
The truth of the analysis is no longer something one arrives at, it cannot be fixed or possessed; it lies rather in the experience; it is the experience. The answer lies in the question – or, rather, asking the question is the feature of this model that most closely corresponds to the idea that what feeds and grows the mind is the weaving of a sustainable meaning, or dreaming reality, just as in the nurturing relationship between mother and child.
Antonino Ferro is a Training and Supervising Analyst in the Italian Psychoanalytic Society, the American Psychoanalytic Association and the International Psychoanalytical Association. He has been a visiting professor of psychoanalysis in various institutions in Europe, North America, South America and Australia. He received the Sigourney Award in 2007.
Giuseppe Civitarese is a psychiatrist and training and supervising analyst of the Italian Psychoanalytic Society (SPI) and a member of the of the American Psychoanalytic Association. He lives and is in private practice in Pavia, Italy. He is the editor of the Rivista di Psicoanalisi, the official journal of the SPI.