24/06/15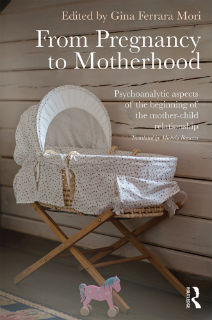 Gina Ferrara Mori (2015)
From Pregnancy to Motherhood. Psychoanalytic aspects of the beginning of the mother child relationship.
Routledge
From Pregnancy to Motherhood: Psychoanalytic aspects of the beginning of the mother-child relationship explores the mental states associated with pregnancy, birth and the early days of motherhood from a psychoanalytic perspective. Drawing on clinical research findings and the infant observation method originally developed by Esther Bick, the contributors examine a range of topics which include: how women's view of motherhood is influenced by social, cultural and biotechnological factors; how women's sense of identity changes throughout pregnancy and motherhood; how women's relationships with her family, partner and future child are shaped; and how mental health professionals can better understand ways to work with issues of maternal and infant mental health.
Gina Ferrara Mori presents the research of psychoanalysts and psychotherapists working in different settings with mothers-to-be exploring their emotions, wishes, dreams, phantasies, fears during the "time" in which they wait for the birth of their baby and experience the various phases of their bodies' development. Their work discusses the specific and complex developmental process in female identity which the authors have termed the construction of the 'internal motherhood/inner maternity' which becomes a 'psychic container' establishing the pre-conditions for developing bonds, affection and their relationship with the baby once it has been born.
From Pregnancy to Motherhood develops and elaborates theoretical thinking and research already available as well as presenting new material, it will be stimulating reading for psychoanalysts, psychologists, psychotherapists, gynaecologists, paediatricians, ultrasound doctors and technicians, midwives, social workers, healthcare assistants, registered and practical nurses, teachers and students.
"Gina Ferrara Mori and her impressive contributors have given a great gift to all those who care deeply about mothers/families and babies in their collection " From Pregnancy to Motherhood: Psychoanalytic Aspects of the Beginning of the Mother-Child Relationship." As a psychoanalyst, a faculty member of an Infant and Young Child Observation Program as well as a couple and family therapist, I look forward to adding this wonderful collection to our students' reading lists to help them gain deeper appreciation and understanding of the development of internal motherhood and fatherhood — and of the beginnings of becoming/creating a family."-Sharon Alperovitz, MSW, founding member and core faculty of Washington School of Psychiatry's Infant and Young Child Observation Program, Washington, D. C. She is Teaching Psychoanalyst of the Washington, D. C. Institute for Psychoanalysis, Co-Chair of the New Directions in Psychoanalytic Writing and faculty member of the Contemporary Couple and Family Program of Washington Center for Psychoanalysis.
"Esther Bick's inspired invention of psychoanalytic Infant Observation has had extensive international impact over more than 60 years. This book documents the work of a group in Florence who has worked on the concept of "internal motherhood" using observational and clinical data. It is an impressive demonstration of the research potential of group study, and brings to an English speaking readership an example of how Bick's ideas have been imaginatively developed in Europe, and integrated with contemporary psychoanalytic understandings of femininity and the mother/child relationship."-Margaret Rustin, Honorary Consultant Child Psychotherapist at the Tavistock and Portman NHS Foundation Trust. She has published widely about observation and child psychotherapy. Her most recent book, jointly edited with Simonetta Adamo, is" Young Child Observation" Karnac, 2013.
Questo libro è la versione ampliata e tradotta in inglese de "Un tempo per la maternità interiore" pubblicato da Borla nel 2008.